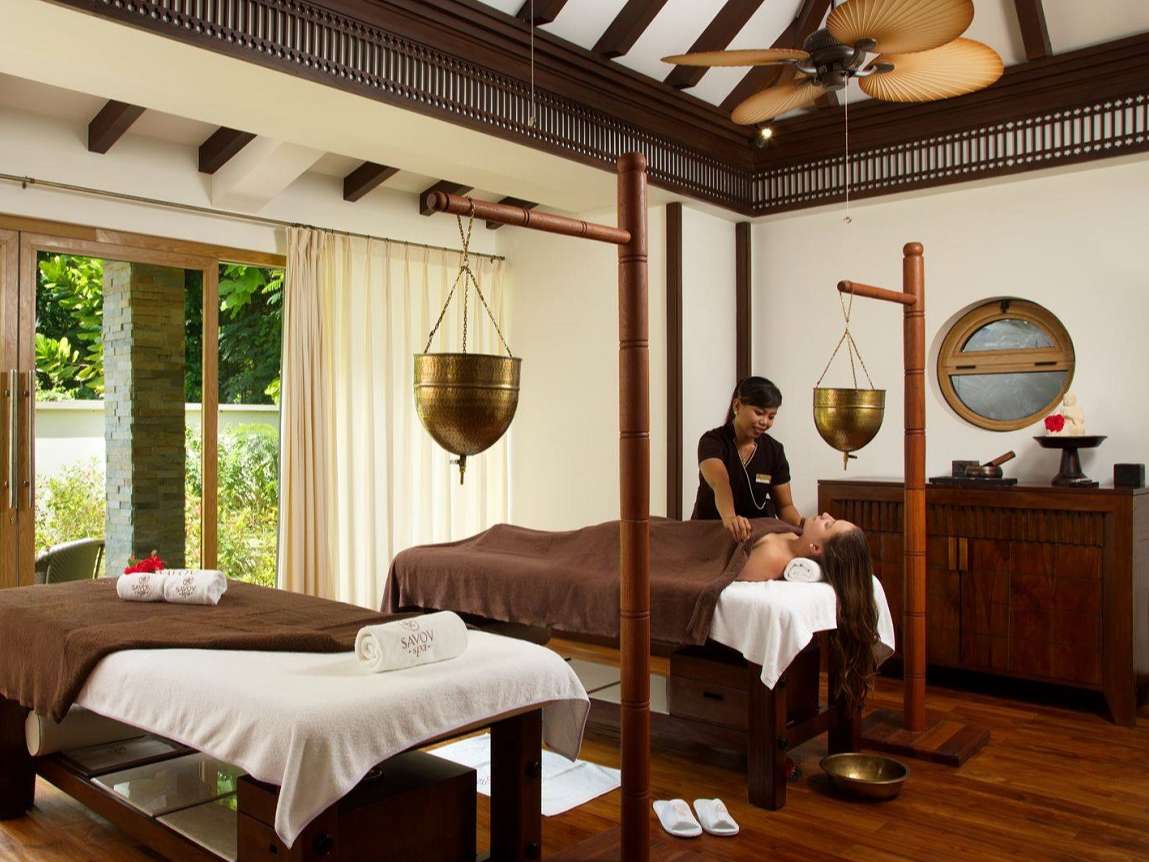 Description
Indulge in a world of rejuvenation with our expertly crafted massages. Each massage is designed to provide a unique and relaxing experience, tailored to your specific needs. Our skilled therapists use a combination of techniques, from deep tissue to soothing aromatherapy, to transport you to a state of blissful relaxation. Whether you seek relief from tension, a revitalizing energy boost, or simply a moment of tranquility, our massages are designed to meet your every desire.
Classic Massages
Swedish Massage
90/60 min | 2745/2045 SCR
Relax with a full body Swedish massage, where the therapist's skilled hands and body weight loosen tight muscles, improve circulation, and transport you to a world of relaxation.
Deep Tissue Massage
90/60 min | 2895/2245 SCR
For those seeking a more intense and firm massage, the deep tissue massage focuses on tension areas, using intense strokes to relax and stretch muscles, ideal for relieving physical activity-related aches and stiffness.
Four Hands Massage
90/60 min | 5145/3545 SCR
Experience the ultimate relaxation with a four hands massage, where two therapists synchronize their movements, inducing a state of relaxation comparable to meditation. Slow rhythmic motions transport you to a place of deep serenity.
Hot Stone Massage
90 min | 2745 SCR
This treatment combines hot basalt stone massage, strategically placed on key energy points to create a warm aura. The deep, penetrating heat, in conjunction with massage techniques, relieves muscle tension, enhances circulation, and releases tension.
Pain Reliever Massage & Mud Wrap
90 min | 3635 SCR
Enjoy a relaxing body wrap with dead sea mud to alleviate contractures, muscle aches, and cervical osteoarthritis, followed by a therapeutic massage, perfect for stiff necks and cervical arthritis, offering immediate pain relief and contracture resolution.
Anti-Cellulite Massage
30 min | 3200 SCR
Focused on thighs and hips, this strong massage, with anti-cellulite cream and serum, mobilizes and metabolizes fat, aiding in excess fluid drainage.
Anti-Stress Back Massage
30 min | 1390 SCR
To counterbalance the stresses of modern life, this massage relieves aches, releases tensions, and promotes a fantastic sense of well-being, an effective anti-stress treatment.
Head, Neck, & Shoulder Massage
30 min | 1390 SCR
Soothe tension in your head, neck, and shoulders with this relaxing massage. It stimulates blood flow, leaving you feeling relaxed and rejuvenated.
Foot Massage
30 min | 1245 SCR
Indulge in a foot massage with botanical extracts and soothing white tea essence, providing relaxation and gentle hydration, leaving you feeling as light as air.
Ayurvedic Massages
Abhyangam Massage
90/60 min | 2745/2395 SCR
One of the most popular Ayurvedic massages, Abhyangam enhances energy circulation, loosens joints and muscles, increases vitality, and induces deep relaxation, flooding your body with a profound sense of stillness.
Udwarthanam
90 min | 2745 SCR
This treatment combines effective weight loss therapy with moisturizing Abhyangam. It induces perspiration, initiates weight loss, improves skin complexion, and mobilizes toxins. A dry, full-body massage using medicated powders stimulates hair follicles and aids in breaking down excess subcutaneous fat.
Shiro-Abhyangam
90 min | 3395 SCR
Begin with a traditional Ayurvedic massage, featuring fluid dance-like movements that cleanse and open blocked channels and energy. Follow with a deeply relaxing Shirodhara, where warm oil flows into the third eye chakra, diffusing stress and tension, harmonizing energy, and inducing profound relaxation.
Padabhyanga
30 min | 1345 SCR
This ancient Ayurvedic reflexology therapy focuses on the sole, targeting marma points of the feet and lower legs. Padabhyanga promotes quality sleep, increases circulation, boosts immunity, and rejuvenates the entire body.
Shirodhara
30 min | 1685 SCR
Experience Shirodhara, an ancient Indian therapy involving a steady stream of warm herbal oil poured on the third eye chakra, scalp, and hair. This treatment has a hypnotic effect, dissolving tension, releasing stress, harmonizing energy, and inducing profound relaxation, elevating your consciousness.
Asian Traditional Massages
Balinese Massage
90/60 min | 2890/2190 SCR
Indulge in a luxurious Balinese massage, combining various massage techniques, gentle stretches, acupressure, and aromatherapy oils. Relax, renew, and feel spiritually refreshed, enhancing circulation and overall wellness.
Traditional Thai Massage
90/60 min | 2745/2045 SCR
Developed over 2500 years ago, traditional Thai massage was initially practiced by monks as a part of Thai medicine. This dry massage uses passive stretching and gentle pressure along energy lines to ease tension, improve circulation, boost energy, and center mind and body.
In-Room Private Massage
90/60 min | Price of Massage + Additional 40% Charge
Enjoy a private massage in the comfort and privacy of your own room.
*Price may change without prior notice